Want to know everything Derek is up to?
Let me start with what keeps me busiest these days.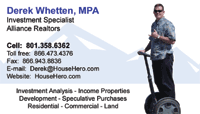 Real Estate - I am extremely busy with my real estate work--both as a sales agent and as an investor. I work almost exclusively with investors and specialize in residential and small commercial (up to $4 million) properties. I am actively investing myself so I know what investor clients want and I enjoy finding great values. My license is with Alliance Realtors and I have my own website at HouseHero.com.
The local market is very hot right now and I do a lot of business for out-of-state investors. While the rest of the country has cooled, Utah is a great market with still-low prices, rapid appreciation, and a strong economy.
BREAKING NEWS: I was just used as a reference for a WallStreetJournal.com website article on investment properties in Park City. Here's the link and a PDF version.

Mauka Development - I am also involved with developers and have started on my first land project. I really enjoy this process of solving problems and creating value. I am actively building my group of equity investors and debt partners so I can get more projects going. (FYI, "Mauka" means "mountain" in Hawaiian--I thought it was unique but nobody else appreciates it.)

Hawaiian Style Shave Ice - I have been doing as little as possible with shave ice this summer and am grateful for a bunch of great managers and workers who have taken over. We've got a fun business with great potential but I haven't had the time to really build it like I should. It will be on autopilot for a few years until I have the time to really perfect everything and grow outside of Utah County. There isn't much to our ShaveIce.com website right now but you can check it out if you want.
Resume - Here is my resume as of July 2006 (PDF format).
For posterity's sake, I need to include a link to a claim to fame. If I don't include the link here I'll never find it again.
That's all I'm involved in right now....